Single Dental Implant
John lost his front tooth in a bicycle accident when he was 8 years old. He came to Dr. Fabricius in his early 20's hoping to replace the tooth. After implant placement and healing, Dr. Fabricius designed a custom temporary tooth (not shown), a computer designed custom abutment (not shown), and a beautiful natural crown. This patient now has a natural-looking tooth replacement that will last for many years.
Porcelain Bridges and Dental Implant
Pamela had several bridges in the back of her mouth that needed replacement, as well as a fractured front tooth. Dr. Fabricius designed new bridges and replaced the fractured tooth with a dental implant. The color of the bridges and implant crown was carefully selected – they blend seamlessly with the patient's natural teeth.
Porcelain Crowns on Dental Implants and Teeth
Joanna was unhappy with her smile – she was missing several teeth and was unhappy with the color and shape of her remaining teeth. Dr. Fabricius designed a new smile. After replacement of the missing teeth with dental implants, Dr. Fabricius made beautiful natural-looking crowns.
Full Mouth Rehabilitation with Crowns on Teeth and Dental Implants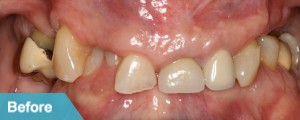 Donna had a severely worn and broken down dentition due to bruxism (tooth grinding) and decay. She was having trouble eating and was not happy with her smile. Dr. Fabricius restored her mouth with a combination of dental implants and crowns. She can now enjoy the foods that she loves and is happy to show off her new smile!
Natural Looking Full Denture with Implants
Gina was unhappy with her dentures – they looked like 'fake teeth' and the lower denture would not stay in. Dr. Fabricius worked closely with the patient to design a smile that was natural and reflected the patient's unique personality. After making the new set of dentures, Dr. Fabricius placed two dental implants in the lower jaw, converting the patient's denture into a snap-on lower denture. This patient is thrilled that she will never have to use denture adhesive ever again!
Porcelain Crowns and Bridges on Teeth and Dental Implants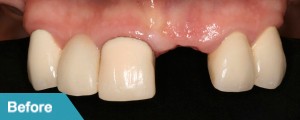 Emily came to Dr. Fabricius wanting to replace her missing teeth and improve her smile. Dental implants and porcelain crowns were used to re-create her smile.
Natural Looking Full Dentures
Barbara was unhappy with her existing upper denture – she thought her teeth looked too masculine and found that the denture fell out every time she tried to eat. Dr. Fabricius designed a new denture that fit the patient's personality and stayed in – so well that she could eat corn on the cob again!
Single Tooth Implants
Brook was born without her lateral incisors. Dental implants were used to replace her missing teeth.
Full Mouth Reconstruction with Crowns and Bridges on Teeth and Implants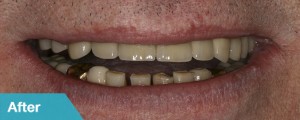 Sam had been seeing a general dentist for his dental work. After encountering many problems, Sam sought the care of a specialist – a prosthodontist. Dr. Fabricius was able to correct the previous dental work and give this patient the natural smile that he desired.
Bonding and Maryland Bridges
Josh is 17 years old and was born without his canines. He was unhappy with his uneven smile and wanted a solution that did not involve braces. Josh was too young for dental implants, so Dr. Fabricius designed no-prep bridges that were cemented in place. Bonding with composite resin of the other teeth was a non-invasive method to improve Josh's smile!